REVIEWS - DO PEOPLE USE THEM?
Here are some quick stats.
72% of consumers trust online reviews as much as recommendations from friends and family.
90% of purchasing decisions are reversible based off negative reviews.
Google and other review portals have become the way you get recommendations on businesses. People WANT to know if they should do business with you based on the opinions of more than your parents or a friend. Everyone has different tastes and reasons for choosing a company. One persons individual opinion is usually taken into consideration, but now if you knew the opinion of dozens, potentially hundreds, wouldnt that make you feel more confident with your purchase?
Think about how you purchase items online in your own life. Take purchasing things on Amazon, for instance, you base your decisions on ease of delivery and quality of the product. The quality of the product is clearly described by the collection of product reviews. Choosing a contractor is no different. Customers look for social media and business portal reviews to qualify your company.
We will display your reviews and make the accumulation of future reviews an easy process.Below we will outline how you can increase your review score and improve your company's visibility online.
REVIEWS - HOW DO I GET THEM?
There are many tactics you can use to get reviews. Some marketers will suggest financial incentives such as gift cards, those certainly are options. Our internal studies have found timing is the best tactic when gathering reviews. The best time to get a positive review from a customer is while you are finishing up the job. While you're cleaning up or completing your final inspection with the customer, ask the customer for a review while you finalize paperwork in front of them.
Sounds great, but how?
Make it easy for your customers to choose their preferred review portal ON your website. If they do not have a social media user profile, we have a general comment form they can use. Timing. The customer is happy and they review option is easy and presented to them. Hard to refuse. If you use this method, you WILL gather more testimonials.
Additional methods such as including QR codes (promotions codes) with your receipts and email signatures can also help with second-chance opportunities at reviews.
Our Online Showrooms display reviews in the form of a review section which helps direct the customer to review portals and aggregates those reviews on your website.
Step 1 - Decide which experience you want to record
---
Step 2 - Choose your experience and preferred portal
---
Step 3 - If you don't have a social media channel, we have a general review form
---
Step 4 - Once the review is submitted, where does it go?
Underneath the submission form on your website
---
Step 5 - Form goes to the same email as your Request for Quote
---
Step 6 - How do I find it on my website?

Automate Your Reviews
Automatically display reviews from popular review sites: Google, Facebook, Yelp, BBB, Home Advisor and more!

Respond to Reviews
Each review is sent to you. Respond to your customers with a thank you or correct a negative situation to a positive.
Increase Your Reviews
Our review collection provides an easy way to guide customers to review your business.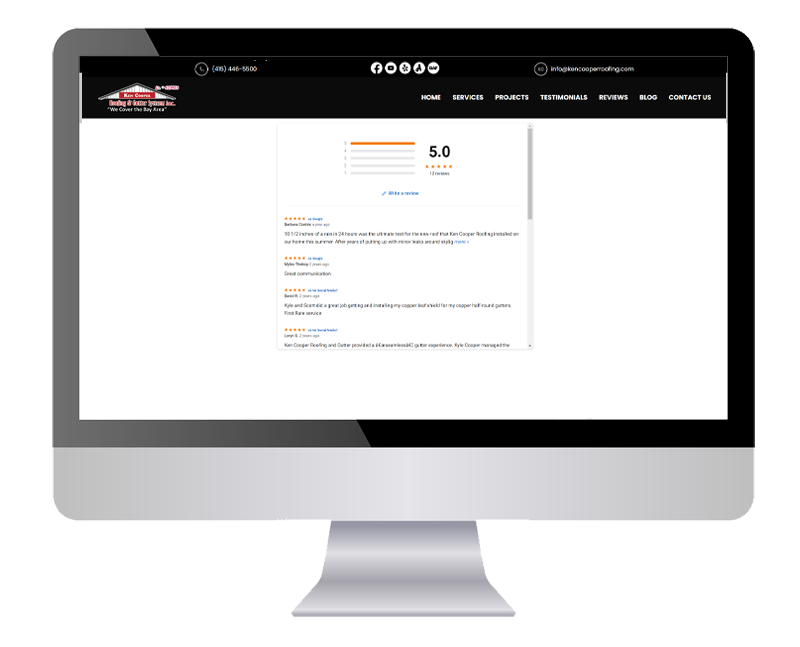 $29.99/Month $49.99 Initial Setup Fee
Affordable Monthly Pricing
Reviews are essential for growing your business. After an initial setup fee for $49.99, just pay $29.99/month for a guaranteed increase in customer reviews on your website and Google.
Frequently Asked Questions
What people say about a business online matters! Potential customers use reviews as a way to qualify your business.
Yes, any review portal can be programmed to retrieve your reviews for display on your website. We start with the top review portals such as Google, Facebook, Yelp, BBB, Home Advisor and more.
That's okay, our system allows you to easily direct your customer to ONE place to leave a review. Reviews will start to collect before you know it!
We can assist you in setting them up or direct you where to go on the internet, to set them up on your own.
No problem! We understand not all customers use social media. On your reviews page with the other review portals, there is a selection for No Social Media, which allows for customers to leave a review in a form based message. These reviews will go to your website ONLY.
You are notified via email whenever you get a review, whether its good or bad. This gives you an opportunity to respond appropriately as soon as possible.
Our system is set by default to intercept any automatic reviews under 4 stars. Only 5 and 4-star automatic reviews are displayed on your website without your approval.
We recommend responding to ALL reviews. Praise your good reviews and address your negative reviews. Most customers who leave a negative review just want their concerns to be heard. Respond to negative reviews as neutrally as possible. Be mindful of how you deal with difficult customers online.
Just Ask! Most customers are happy to leave you a review if asked. The perfect time to ask is when you are finishing up your final paper work and inspection. That is the peak of their happiness. Have your customer grab their tablet or smartphone and direct them to your reviews page. Incentives such as quarterly inspections or other discounts can be left in final paperwork or marketing materials, directing customers to your reviews page.